en:moodle:overview:new:start
Table of Contents
What's new (10/2022)
Here we provide information about new features in Moodle that result from version updates or have been added. The information concerns teachers and course owners (role "Teacher").
New as of 10/2022
Matriculation number in Moodle
The matriculation number is now synchronized in Moodle and (only for the role "Teacher") displayed in the attendance list.
Document attendance
With the Moodle extension "attendance" (plugin mod_attendance) can be used to document student attendance. If configured accordingly, students can record their attendance themselves. Teachers can export attendance lists. Students can display an overview of their own attendance.
The extension will be used on a trial basis for now, the Moodle team is looking forward to your feedback!
Check accessibility
Moodle includes (since version 3.11) the Brickfield Accessibility Starter Toolkit. Instructors can use this analysis function if they wish and receive tips on how to optimize their own course.
New since 08/2022
Activities
Show due dates for activities
Due dates for activities can now be displayed on the course page, e.g. submission date of an assignment or last date for a vote.

Enable in course settings (section Display) > Show activity dates).
Show activity completion conditions
If Abschlussverfolgung is used in the course, the conditions for completing an activity can now be displayed on the course page, e.g. making a selection for a vote.
\ Enable in the course settings (completion tracking section):



image: enable completion tracking
"Enable completion tracking"

"Show completion conditions" - shows the conditions for completion on the course main page.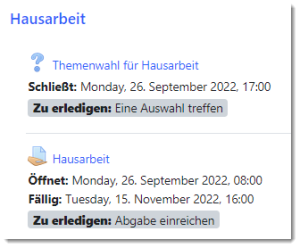 picture: display due date and completion conditions on course main page
Improved Activity Completion Report
(Available in audit courses only): Instructors can filter the activity completion report by type and order of activities.

H5P and the content repository
Teachers (role "Teacher") can download and/or replace H5P files in the

Content Store

.

Teachers can see how often H5P items are linked (but not where) via the content store.
Test/Quizzes and Questions
Maintain preferred settings for test questions
Changes in default test question settings are retained when instructors create a new test question.
Word limit for free text questions
Instructors can specify a minimum and maximum number of words for free text questions.
Review test results
It is now possible to comment on answers and overwrite points. The "Answers Review" documents the corrections.
Test completion via number of attempts
For tests, it is now possible to specify after how many attempts a test is considered completed.
Enable course content download
Instructors can enable a button for students in the course to download course content collectively. Currently, this includes the working materials "Directory," "File," and "Text Box."
en/moodle/overview/new/start.txt · Last modified: 2022/11/03 13:20 by me1014
---