en:moodle:course:request:start
Request course room
To request a course room in moodle, do the following:
1. Log in with your university credentials.

2. Go to the page Request course.

3. Fill out the form (see below) and confirm with "Request a course".
You will receive a confirmation by mail as soon as the course room is created.
---
Details of the ordered course
Course name (complete) according to examination regulations, supplemented by an abbreviation for the semester and the names of the lecturers: "WiSe21 course/lecturer" or "SoSe22 course/lecturer".
Course name (short) Must be unique throughout the university and therefore must contain the part "WiSe21/Dozent_in".
Course area Please select (subject) area, course and module.
New course area? Please enter or consult moodlesupport@jade-hs.de.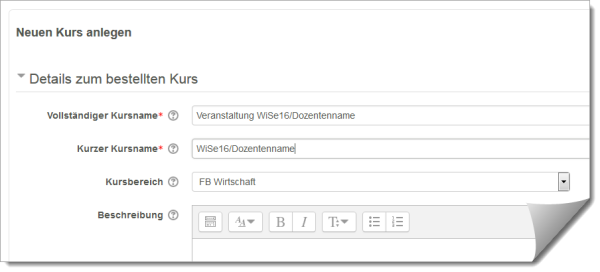 You can also contact the E-Learning Officer of your department/division or to the moodlesupport@jade-hs.de.
en/moodle/course/request/start.txt · Last modified: 2023/03/06 15:42 by helmke
---